At a glance:
2022 March Madness generated more than $410M in equivalent media value for brands exposed within telecasts of the Men's and Women's tournaments (excluding commercials)
Exposure was concentrated within official NCAA sponsors, equipment providers, and the apparel brands outfitting participating teams, which collectively earned 93% of equivalent media value
Across the Men's and Women's tournaments, Capital One earned the most brand exposure among NCAA Corporate Champions, as did Buick among NCAA Corporate Partners, Nike among uniform sponsors, Spalding among equipment providers, and State Farm among all other brands
Among uniform sponsors, Nike outfitted more than half of all teams across the Men's and Women's tournament (69 of 136 participating teams) and earned the most cumulative exposure among uniform sponsors (61% in the Men's tournament and 48% in the Women's)
Official NCAA corporate partners – especially Coca-Cola – benefited from a surge in search engagement during tournament games, according to data from EDO which connects televised brand exposure from sponsorships and advertisements to online search activity
The 2022 NCAA Division I Men's and Women's Basketball Tournaments are now in the books after 134 games, millions of busted brackets, and two new national champions. This year, Hive and Elevate Sports Ventures teamed up to determine the final scores for the brands who invested alongside March Madness.
The following insights were generated using Hive's AI-powered media intelligence platform, Mensio, which provides always-on measurement of in-content brand exposure for more than 7,000 brands across 24/7 programming from national TV channels and regional sports networks. Mensio is trusted by a diverse set of leading brands, rights holders, and agencies to measure the value of and share of voice from sponsorship activations, product placement, and other in-content exposures.
Official NCAA partners lead in-game brand exposure
Through 134 total tournament games – 67 from each of the Men's and Women's tournaments – brands earned more than 187 hours of cumulative brand exposure and more than $410 million in equivalent media value from their in-content exposure (excluding traditional commercials).
"Given the tradition and extraordinary momentum behind March Madness, and the mounting attention by brands on collegiate athletes and athletics, the university sports ecosystem is primed for mature brand exposure analysis of this nature," said Kyle Folts, Vice President, Elevate Sports Ventures, Insights. "At Elevate Sports Ventures, we believe measuring exposure at scale empowers sponsors to efficiently and effectively make data-driven decisions that optimize their partnerships."
With significant NCAA branding and deliberate assets for sponsorship placements, in-game brand exposure was concentrated within two tiers of official NCAA sponsors, equipment providers, and uniform sponsors (see Figure 1).
Official NCAA sponsors, equipment providers, and uniform sponsors collectively earned 93% of total time on screen and 94% of total equivalent media value in the Men's tournament, and 78% of total time on screen and 66% of total equivalent media value in the Women's tournament. The difference in mix between tournaments was driven by additional sponsorship assets available in the First and Second Rounds of the Women's tournament; during those games, State Farm's logo was placed on the stanchion arm along with a collection of other brands which were visible on the pole pads at the base of the stanchion and varied by arena.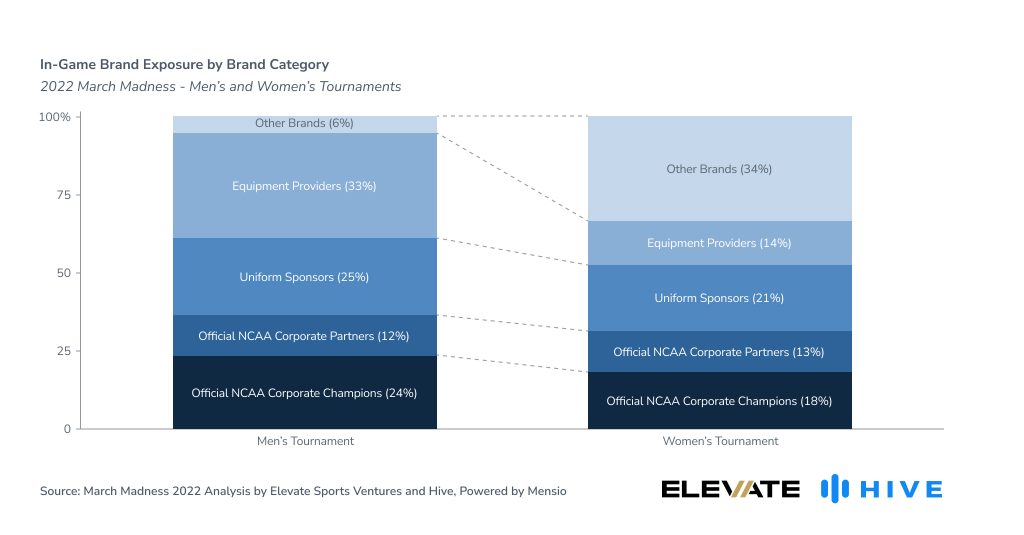 AT&T, Capital One, Coca-Cola, Nike, and Spalding among March Madness exposure winners
The three NCAA Corporate Champion brands – AT&T, Capital One, and Coca-Cola (including Powerade) – along with top earners Nike and Spalding collectively earned 50% of the total televised screen time and 56% of the total equivalent media value earned by brands across the 2022 Men's and Women's tournaments.
Across the 2022 Men's and Women's tournaments, Capital One earned the most cumulative brand exposure among NCAA Corporate Champions. Buick was the most exposed brand among NCAA Corporate Partners, while Nike led the uniform sponsors, Spalding the equipment providers, and State Farm led all other brands (see Figure 2).
While in-stadium exposure is carefully scripted based on a brand's contractual terms, the natural variability of gameplay and broadcast coverage can result in brands with similar assets earning different values from their placements.
"Most digital signage in arenas is allocated to brands for a fixed duration. However, brands get the most value from the subset of that exposure which is visible to the larger audience watching the event at home, which can often vary across brands based on gameplay," said Dan Calpin, President of Hive – Enterprise AI. "The ability to measure this exposure in near real-time, especially during a season or multi-week event like March Madness, creates an opportunity to better align exposure with where brands get value."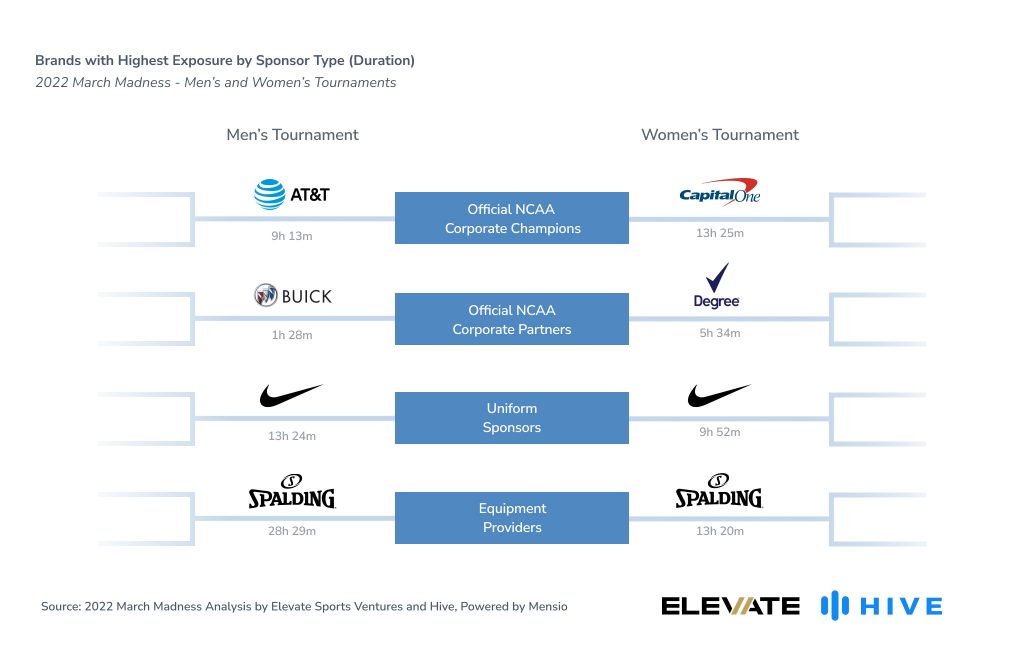 Nike leads exposure among apparel brands; Air Jordan outperforms in both tournaments
While most NCAA sponsors enjoy exclusivity among their competitive set during the tournament, apparel brands are unique in that uniform sponsorships are contracted with teams – resulting in a competition for exposure among Nike, Under Armour, Adidas, and Nike's Air Jordan brand.
More than half of the teams in the tournament (69 of 136) wore Nike uniforms; however, the exposure earned by apparel brands are a combination of both how many of their teams make the tournament, and how many games those teams ultimately play.
In the Men's tournament, Under Armour outfitted the second-most teams (14; behind Nike's 35) but saw only one of those teams advance to the Sweet Sixteen and none beyond that. Meanwhile, Air Jordan only outfitted six Men's teams but strong performance resulted in the brand representing 25% of the field in the Sweet Sixteen, Elite Eight, and Final Four, as well as one half of the National Championship game (see Figure 3).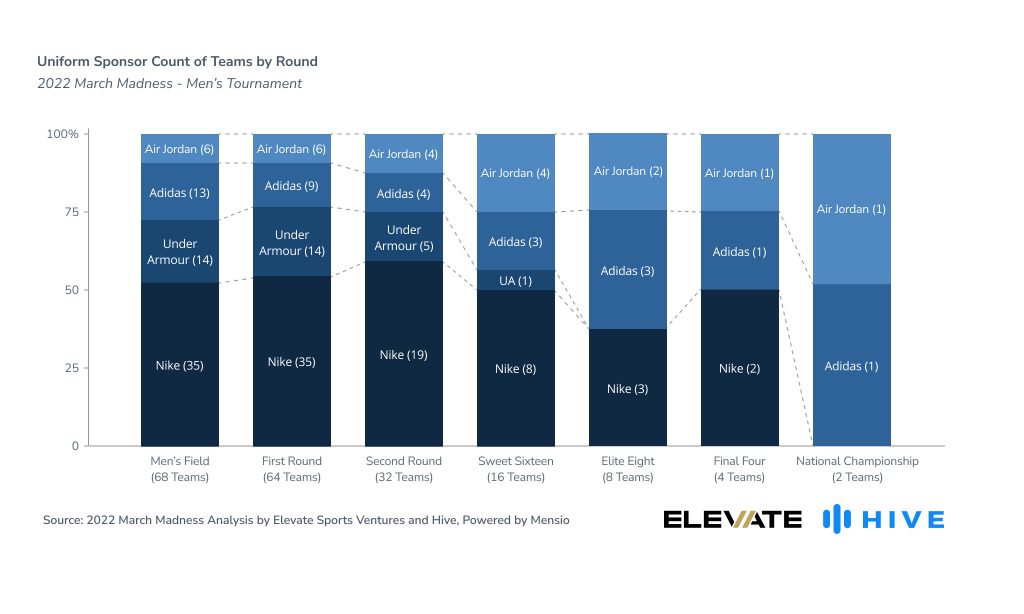 In the Women's tournament, the distribution of games was identical to the distribution of teams. Nike outfitted 50% of the teams, and those teams played in 50% of all games (see Figure 4).
Official NCAA Sponsors earned higher search engagement during telecasts
NCAA sponsors engaged viewers beyond traditional ads and in-game signage. According to data from data, measurement, and analytics software company EDO, top sponsors experienced a higher than average Search Engagement Rate (SER) in the minutes adjacent to their on-screen exposure. SER is EDO's proprietary metric based on the increase in online search activity for a brand or product in the minutes immediately following a televised exposure (controlling for impressions, duration, and other factors).
SER for the three NCAA Corporate Champions – AT&T, Capital One, and Coca-Cola – was 1.69x that of the Primetime Broadcast and Cable average, meaning the trio generated 69% more search engagement than average (see Figure 5). Across the board, March Madness advertisers experienced 26% more search than the average Primetime Broadcast and Cable program. Of particular note is Coca-Cola, generating 126% more online search than average, likely due to their "Coca-Cola® with Coffee" launch campaign.
"NCAA programming typically performs exceptionally well in EDO data," said Laura Grover, Head of Client Solutions at EDO. "In 2021, for example, NCAA March Madness programming comprised four of the top ten most engaging sports programs across all of TV. Further, the Men's Championship Game was the second strongest sports environment for driving ad engagement in 2021, trailing only Super Bowl LV." Grover continued, "This year's games provided a similarly engaging environment, and Coca-Cola experienced considerable success pairing the NCAA environment with the launch of Coca-Cola with Coffee. That campaign has proven to be Coca-Cola's strongest of the past year."
About Hive
Hive is the leading provider of cloud-based AI solutions for content understanding, which are trusted by hundreds of the world's largest and most innovative organizations. The company empowers developers with a portfolio of best-in-class, pre-trained AI models, serving billions of customer API requests every month. Hive also offers turnkey software powered by proprietary AI models and datasets, enabling industry-leading applications for critical business needs. Collectively, Hive's solutions are transforming legacy approaches to content moderation, brand protection, sponsorship measurement, context-based ad targeting, and more. For more information, visit thehive.ai or follow on LinkedIn.
About Elevate Sports Ventures
Elevate Sports Ventures is a best-in-class sports and entertainment consulting firm, providing proven, innovative solutions to organizations across the global sports and entertainment landscape. Elevate taps into the extensive resources, relationships, and expertise of its partners to innovate and execute comprehensive strategies and solutions in Venue Renovations, Sales and Marketing, Stadium Licenses, Premium Ticketing, Corporate Hospitality, Customer Research, Strategy and Analytics, Sales Training, and more. Formed in partnership between the San Francisco 49ers and Harris Blitzer Sports & Entertainment (HBSE) in 2018, Elevate welcomed Oak View Group (OVG), Ticketmaster and Live Nation as partners in June, 2018. For more information, visit: www.ElevateSportsVentures.com or follow @ElevateSV on Twitter or LinkedIn.