At a glance:
Auto manufacturers earned an estimated $1.1 billion in media value from visual logo exposures on national and regional TV over the past year, with Toyota capturing the highest share of voice across programming
TV exposures for auto brands are correlated with sports seasons, with official league sponsors dominating in playoff and championship months; additionally, in the fight for share of voice on TV, auto manufacturers strategically invest in specific categories, with a different brand leader across each sport
The return on investment of different placement types can vary; for example, looking at Major League Baseball in the month of April as a case study, exposures of Toyota and Ford outweighed those of league champion Chevrolet
Measuring amplification of exposures in shoulder programming and highlights – typically overlooked by sponsors today – doubles the number of unique programs with auto logos exposed and increases media value by 17%
As TV viewership continues to fragment across different platforms, the ability of sponsorships to ensure brand exposure within desired content has never been more important. However, sponsorship activations themselves are fragmented across sports and rights holders (e.g., teams, leagues, broadcast partners), resulting in demand for better data to measure the effectiveness of automakers' own investments and to monitor a dynamic competitive environment.
The sponsorship landscape among automakers was analyzed using data from Mensio, Hive's AI-powered media intelligence platform. Here's what we learned.
1. In aggregate, auto manufacturers (OEMs) garnered an estimated $1.1 billion in media value from visual logo exposure on national and regional TV over the past year. Over 80% of this value was owned by the top 10 most exposed brands (out of a total compared dataset of 67 brands), speaking to market concentration on TV. Toyota led the pack by a large margin as the "Let's go places" manufacturer indeed went everywhere on TV. With half the estimated media value of Toyota, Ford was the second-highest earning OEM, followed by Kia, Honda, and Chevrolet.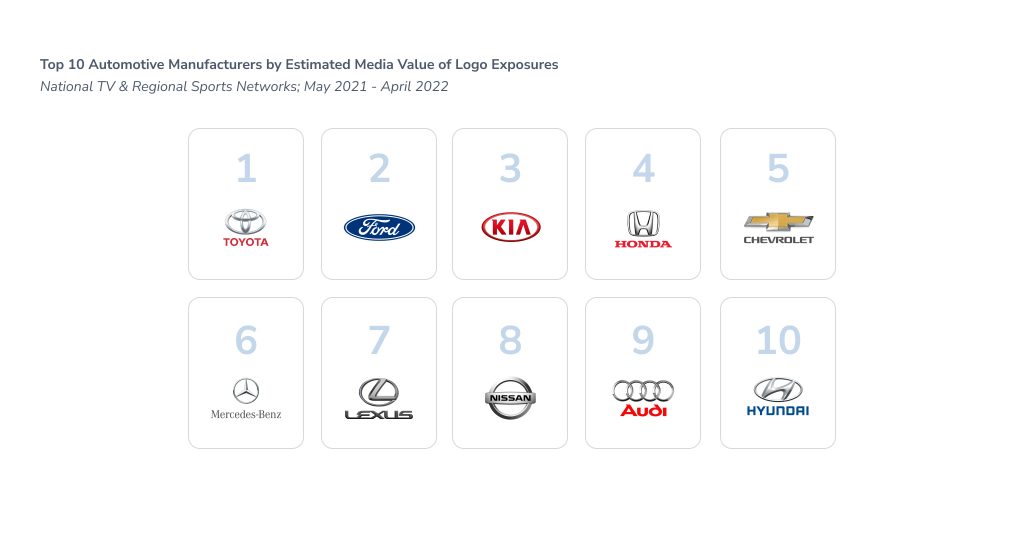 2. While sports sponsorships are typically rooted in the objective of aligning automakers' brands with a given sport and/or team and its fans, sports sponsorship also dictate the time of year when different brands capture outsized share of voice. Each of the official league sponsors of the four largest US sports leagues experienced spikes in their share of voice of in-content brand exposures during playoff and championship periods: Kia (NBA) in April/May, Honda (NHL) in June/July, Chevrolet (MLB) in October, and Toyota (NFL) in February (its most exposed month, despite high visibility throughout the year). Additionally, Mercedes-Benz' sponsorship of the U.S. Open rockets up its exposures in the month of September, with over $2M in estimated media value from the Men's Championship match alone.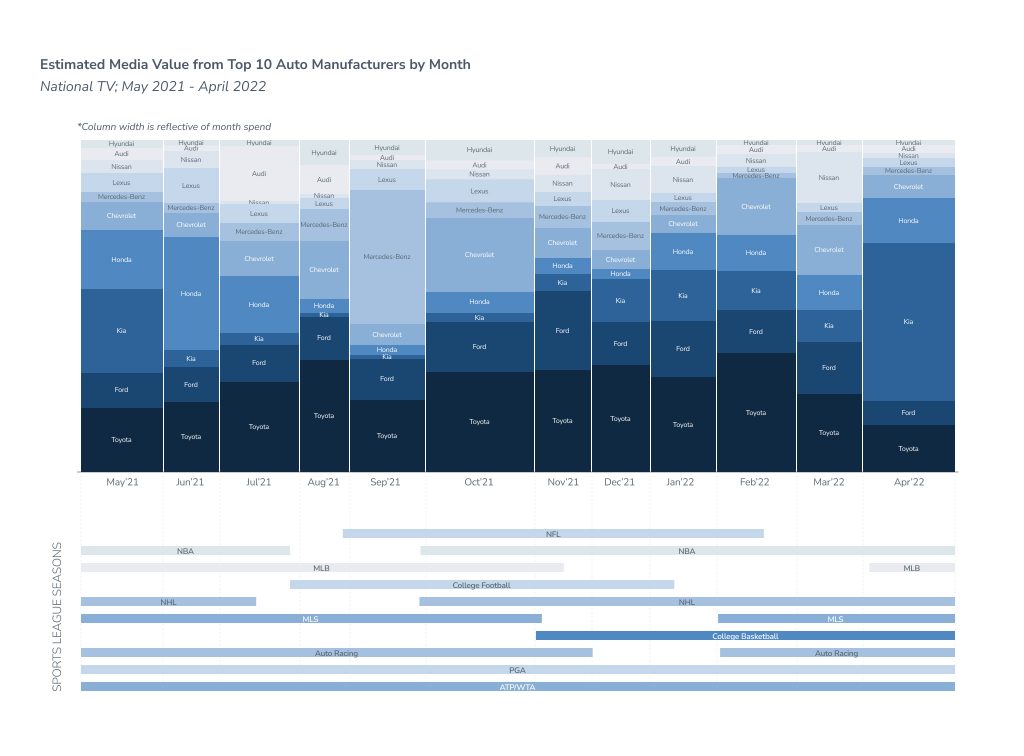 3. In the fight for share of voice within in-content brand exposure on television, brands placed differing bets across genres. Within sports, a different brand dominates each league, with official league partners leading the way. However, exposure wasn't limited to league partners; Ford's sponsorship of NFL pre-game programming is one example among many team- and broadcast-level activations where brands have competed for share of voice within a sport outside of official league sponsorships. Outside of sports, other genres of entertainment saw other investments by auto companies, such as Mercedes-Benz' top feature in talk shows and awards/special programming.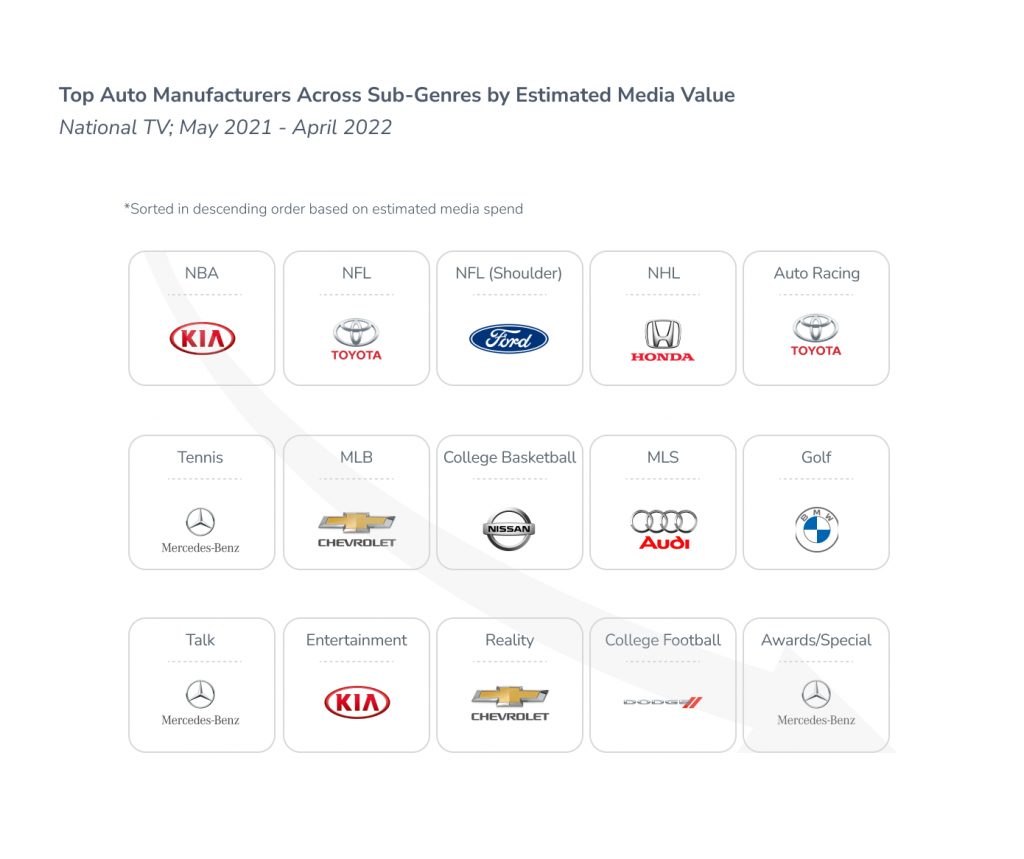 4. Zooming in on the first month of the 2022 Major League Baseball season across national TV and regional sports networks presents an interesting early season case study. While Chevrolet – the official league sponsor – will likely increase exposures as the season continues, the brand started the year ranked #3 in share of voice for in-game brand exposures. Heavy team and broadcast sponsorship investments made by Toyota and Ford outweighed Chevy, illustrating alternate tactics to reach the same audience at different points during the season.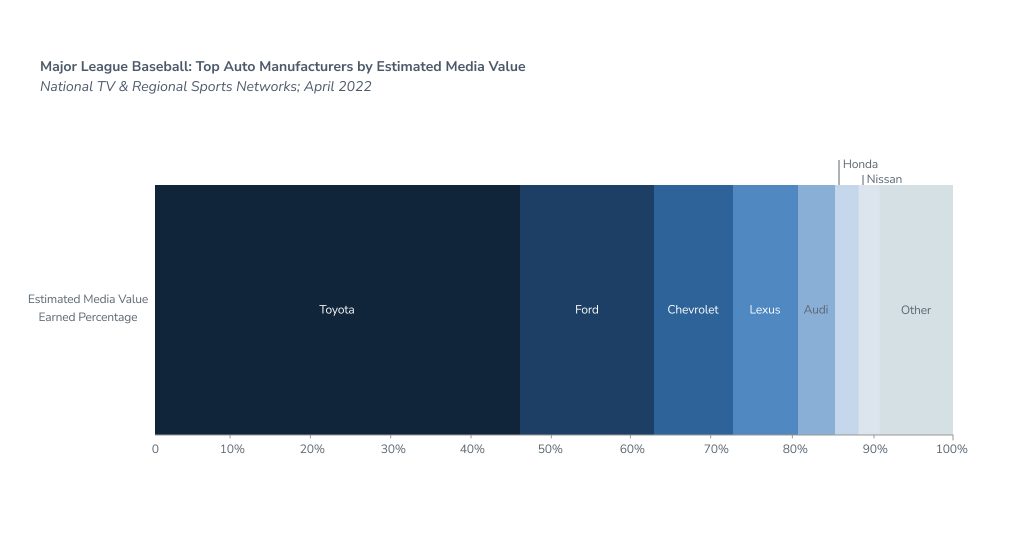 5. Given the massive investment and competition for the best placements, it is important for brands to fully measure their onscreen exposures. Currently, most brands are limited to "whistle to whistle" measurement focusing on in-game exposures, and sometimes the additional exposure from social media. The fragmentation of shoulder programming and highlights has traditionally been difficult to measure at scale; however, doing so provides a far more comprehensive understanding of performance from a given activation. Using always-on measurement from Mensio, which reports across every second of every program from 100+ national TV networks and regional sports networks, we estimate that amplification from shoulder programming and highlights almost doubles the number of unique programs with auto brand logos exposed, increasing duration of in-content brand exposures by 32% and the associated equivalent media value by 17%.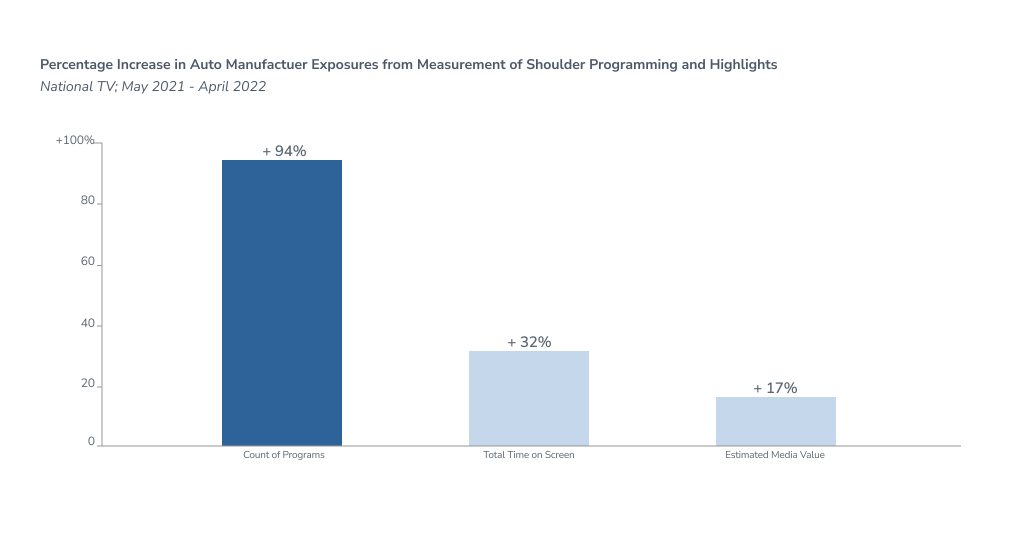 Credible competitive intelligence data is critical in making decisions on the best sponsorship placements. Mensio, Hive's AI-powered media intelligence platform, provides always-on measurement of in-content brand exposure for more than 7,000 brands across 24/7 programming from 100+ national TV channels and regional sports networks.
Access to credible competitive intelligence data is critical for branded content and sponsorship decisions. Mensio allows brands to understand how their share of voice compares to that of competitors at the program-level and in aggregate. For more information on Mensio or to schedule a demo and learn how Mensio can support your brand, reach out to Hive at demo@thehive.ai.
Note: This analysis looked at in-program auto manufacturer logo exposures from May 2021 to April 2022 on national and regional TV (excluding commercials) and includes Tier 1, Tier 2, and Tier 3 placements.